02 Dec 2014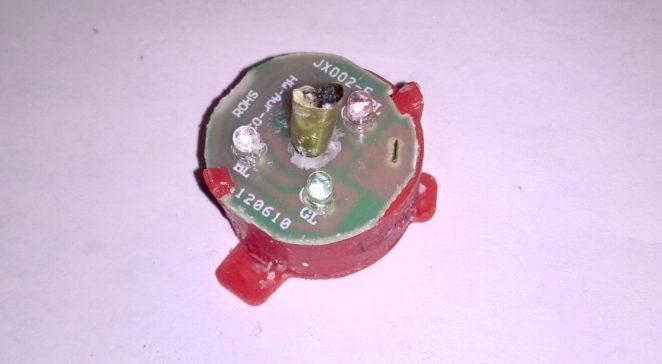 What is inside of the color changing candles?
I have always been curious what's inside of these color changing candles. These candles start emitting light when lit and colors usually change (nice mood light). Most famous ones are probably Air Wick ones. There are also others out there like Coleman for example.
I finally disassembled one to check it out.
These candles have color changing LEDs in the bottom. This little thing which brings a romantic atmosphere can also bring "second hand" joy to rip it apart and discover parts and make something useful. As everything with LEDs /electronics inside.
Findings and how color changing candles work?
The candle has a small electronic device in the base that is turned on by the infrared light (IR) given off by the candle when burning. You can point a TV remote to it and cause it to come on as well. At first, I thought it's a casual photoresistor. I was wrong.
I was expecting RGB LED but it was actually separate LED elements with a different color for RGB. It was powered by 2 little 3V batteries (CR2032).
I have an idea to hook it up with bigger RGB LED to drive it with this little chip. Would be easy to use "logic chip"- instead of using Arduino or such.
Now the photos of the disassembly
Let's see what components can we can find inside. The first step is to dig through candle wax.
After cleaning up we can see LED's and little PCB
Here we can see batteries used to drive it.
Comments