08 Aug 2019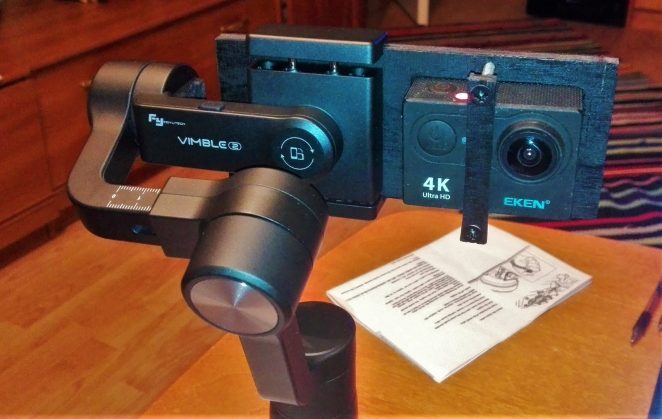 Action camera adapter for smartphone stabilizer build- lesson learned
I have a new toy – a smartphone gimbal. I am already pretty happy with it, but it has one drawback. As many smartphone gimbals- their brackets are a good fit for various sized smartphones, but usually not suitable for small action cameras such as GoPro.
These gimbals need action camera adapters for it. At least my Vimble 2 didn't have such adapter with it. Built one myself and learned a lesson about designing one.
My build
There are solutions on the internet and they cost around 10$ to 20$ which seemed too much for such a simple plastic piece. I saved shipping time and money by building one from the scrap plywood myself. If you have a 3D printer you might design or download some existing model from the internet instead. Like this Zhiyun Smooth Q GoPro 5 adapter or this GoPro 3/4 gimbal adapter.
I used a router for cutting a groove for action camera into plywood. This is the main base where the camera will be mounted into. After that, I used jig-saw to cut out the middle part. The clamp is only for holding it in place. You could use something else – like a rubber band instead of a clamp.
Weight of the adapter
Since my stabilizer is for smartphones with a total weight of 200 grams (7 ounces) I wanted to be sure that adapter + action camera don't exceed that weight limit. It was not a problem with a 6mm (~1/4 inches) thick plywood. It was only 40 grams (1.4 ounces) with a bracket.
Lesson learned – what I failed with?
I jumped into the build without thinking much ahead. I just watched a few examples on google and made up a quick plan to build my own.
Problem with action cameras is – they are usually wide-angle. So they capture much more on the video- like the arm of the gimbal which renders adapter pretty much useless. So the camera should be brought much more front of the adapter. Or farther left which makes balance impossible before turning the gimbal on.
Later I found out that this limitation is actually mentioned in product reviews of one of the examples I looked at. That comment would be made me think of a better design.
My finished Homemade action camera adapter for a smartphone gimbal
The adapter itself is pretty sloppy as seen on previous photos, but after finishing it with black color it doesn't bother me too much. It hides pretty much everything up if looking from distance.
Build and share it!
It's actually interesting that they don't include it in the set. In today's worlds, it could make or break the deal when buying a gimbal. But you can definitely build one yourself without too much effort.
I hope I have helped you to not make the same mistake that I did. Be sure to share your build on Instagram hashtag #diyactioncameraadapter!