28 Sep 2018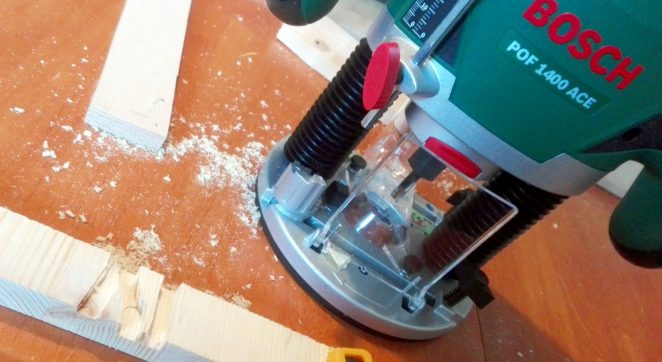 Bosch POF 1400 ACE – My first Router, detailed review with photos
I bought a Bosch POF 1400 ACE plunge router as my birthday present a month back and have used it for a few weeks now. It was a bit pricier than other options, but now I think it was totally worth it. This is my first plunge router and router at all for heavier work so it's written as a beginner in routing. So my review is probably very biased since I have not used any other plunge routers.
I included closer photos and main measurements that might help you decide when considering to buy this Bosch router.
Main features and characteristics
You can check the technical info on the official website. Here is a quick recap of the features included. Someone posted also a full manual online.
Soft start feature
Constant speed controller (electronic)
Maximum plunge depth 55 mm
Transparent dust guard and extraction port (inner diameter 35mm)
Speed control (11 000 – 28 000 rpm)
Routing depth fine adjustment (0.1-millimeter scale). Overall it was possible to fine-adjust a total of 15mm end to end.
Parallel guide
The circular cut feature is present by using the parallel guide and provided center pin.
Integrated spindle lock for quick tool change
Rotating depth selector/turret stop
Quick release template guide (SDS system)
Working LED light (turns on when the motor started)
The power cord for my unit was a little bit over ~2.5 meters (8.2 feet) long
Soft start feature gives a very smooth start. It does not jerk in your hands because of rapid acceleration when started. Constant speed controller holds motor speed constant by giving more power when needed. Can't imagine a router without these features.
Box size and what was included
The router was packed in a sturdy plastic casing with handle and latches for firm locking. It was surprising to me and I totally love it – no throwaway cardboard box. Closing latches could be a bit smoother. I have to kick them to close them. It features a screw and butterfly nut in the bottom to hold everything in place while transporting. There is also some spare room in the casing so I can keep some router related stuff in there. Like a box of routing bits. Total weight (router + box + additions) was around 7.9kg (17.42 pounds) and approximate measurements are following.
Height: 34 cm – 13.36 inches
Width: 40.1 cm – 15.79 inches
Depth: 21.3 cm – 8.38 inches
By default, it came with the following additions included (year 2018). It was bought in Europe so I am not sure about included stuff on other markets.
3 x collets – for following diameters: 1/4 inch, 6mm, and 8mm (There was no 1/2 inch collet)
parallel guide with a circle cutting pin
8mm straight bit for 8mm collet (cutting edge length 19mm)
spanner to change router bits
17mm Template guide
Rolling edge guide (or how is that called?)
Does POF 1400 ACE fit a 1/2 inch collet?
There is no 1/2″ collet included and for me, it seems it would be not possible to fit anything bigger on the spindle anyway than 8mm collet sleeve. I made a quick mockup with a ruler to demonstrate it. As seen from 8mm collet- it's sleeve is already pretty thin. A 12mm collet (1/2 inch) would not have room to fit. Orange lines on the image (start of the thread) themselves are around 12mm- not to mention it gets tapered inside.
As far as I know, there are no such adapters that address this problem? If anybody knows- please let me know.
Router measurements
This may be too detailed, but you never know. Maybe someone is planning a new machine for a router table and wants to know dimensions? There were many points to measure so I made this picture instead and numbered some measures for easier referencing.
Dimensions I got measured were the following (close approximates).
1) Min height: 24.5 cm – 9.65 inches and max height: 30 cm – 11.81 inches (this is with a base plate which is 5 mm itself)
2) Width: 27.7 cm – 10.9 inches
3) Depth (to dust extraction port): 17.8 cm – 7.01 inches
4) Depth (to handle): 15.3 cm – 6.02 inches
5) Depth (to fence guide): 14.1 cm – 5.55 inches
6) Base plate diameter: 16.2 cm – 6.38 inches
Power switch for router table use
It's possible to press button permanently down when using it under a router table for example. There is no "safety feature" implemented. When "on-off" button is pushed before plugged into AC mains – it starts to work. Here is a quick hack solution with a zip-tie. Circumference of the handle measured such way is a bit over 15cm (5.9 inches). So zip-tie minimum effective length must be a bit over 15 cm.
I don't know is it possible to adjust the speed also with some external voltage/trimmer regulator. I guess it's not since it has an internal constant speed controller. I suppose it will try to keep up to the pre-selected speed. Exactly what it was designed to.
What are the minimum and maximum diameter when routing circle?
There is no info on this router that it has circle cutting ability built in. The circle can be cut if the parallel guide is flipped upside down and the center pin is bolted in. Maybe it's an obvious feature for others, but it was not for me. There was no clue on the box about circle cutting feature. Minimum circle I was able to measure was exactly 18 cm (radius 9cm). The first time I measured longer radius, but then found out a clever design of the depth selector. By rotating it to a particular position you can gain few extra centimeters or so, but effectively disabling selector during those cuts.
Maximum radius for cutting circle I measured was 40cm so maximum diameter would be 80cm. The tip of the center pin for circular cutting is 4mm in diameter and 7mm long.
Seven position turret stop
I was not able to determine very accurately how much is the difference between the maximum and minimum stop depth. But it's somewhere near 3mm (almost 1/8 inches) per stop (overall 22mm with 7 positions). I use this lot already to do multiple passes when routing. It allows to quickly set the depth increments until I reach the desired cutting depth. But this rotating depth selector has no set screws what some routers have. But not sure is it needed at all.
Parallel guide
Maximum I was able to adjust to was 43 cm. Rods are connected with screws – so it's possible to flip the guide however you like. As you can see from the picture- it's a simple guide. No horizontal fine adjustment or anything else present.
It also has some kind of edge guide with a roller that can be attached to the parallel guide. I am not sure how this is called, but the picture says it all.
Fence guide and base plate
Distance from fence guide edge is 59 mm which is 2.322 inches. The base plate is attached with standard M4 (4 mm) threaded screws.
Anything negative?
Since Bosch POF 1400 is my first router I really can't say anything negative about it. I just don't have any comparison.
People have complained about the spring being too strong making it hard to adjust the depth by hand. For me, it is maybe a bit stiff. Fine adjustment helps us out here. This is probably the case for Bosch POF 1200 AE which has not fine adjustment.
Compared to other comparable routers this does not come with horizontal fine adjustment (for parallel guide). This would be actually also a great feature.
You can check reviews and prices on Amazon. There are also a few negative reviews also, but nothing very common stands out.
Overall impression by far is very positive
My emotions can be summed up by questions instead. How did I live without a router so far? It's an awesome addition to my toolbox. If you are in the process of buying your first plunge router I can recommend Bosch POF 1400 ACE. I have used it only for a few projects and a few weeks, but I am impressed by the creative possibilities I have now. I can't actually imagine router without most of this feature this one came with. If you are buying your first – I totally recommend spending a little bit more.
Recommendations
If it's your first router I have a few recommendations.
Get a waste board and few clamps to hold down your stock. Didn't' feel good to do something directly on the kitchen table (or any table).
I instantly developed a strong urge that I need a router table. Every cool kid has and builds one. But I think it totally deserves this buzz. Probably will build mine soon. Like I built a circle cutting jig.
Get a box with different router bits for playing around. No need for big variety or expensive ones from day one. You can start buying better bits for ones you actually use when you know what you need.
Get some nice straight stock to use it as a fence guide. I use a fence guide to make nice straight cuts. I have used a jigsaw for these cut's, but those never turned out good since blade can bend. But with router results are excellent.
Do you have any questions about Bosch POF 1400 ACE?
What essential did I miss? Maybe some close up photo? Did I answer all the major questions you had about this router? If not- feel free to drop me a comment. I try to answer them and add information into this review to make this article better and helpful for others.
Comments